Mindful Mamas Retreat Events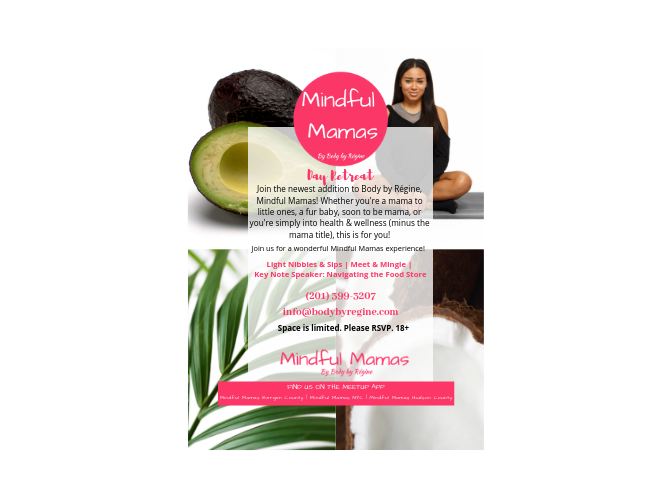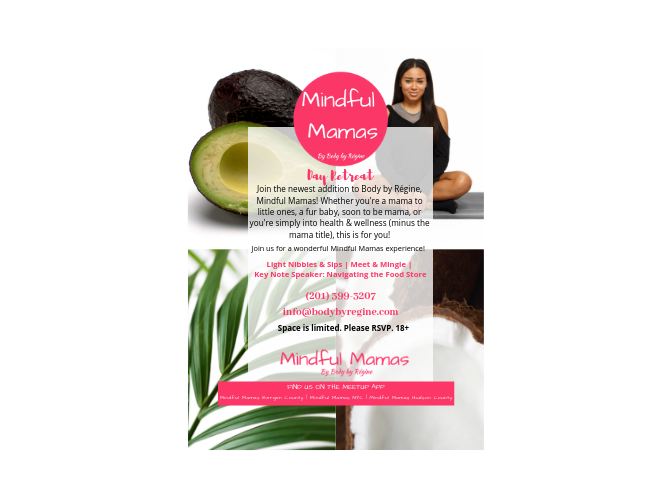 sale
Mindful Mamas Retreat Events
Are you a mindful mama? Are you and/or your family living a healthy lifestyle? If you're interested in continuing to learn about living a healthier lifestyle or if you're completely new to motherhood or living healthier, this is the group for you! All parents and individuals are welcome! I invite you to join Body by Régine at our events to learn and partake in mindful awareness activities, culinary workshops, interactive round tables, and simply meet other like minded individuals! Healthy living isn't difficult, you just need to be aware of all the helping resources and tools. Let's begin living our best healthiest lives!

Live Better. Feel Better. Be Your Best You!
Join the newest addition to Body by Régine, Mindful Mamas! Whether you're a mama to little ones, a fur baby, soon to be mama, or you're simply into health & wellness (minus the mama title), this is for you! A getaway from your hectic schedule to mingle with likemindied individuals.

Our day retreat will begin with a healthy light brunch, introductions, key note speaker: Navigating the Food Store, mindfulness & wellness activities, and mingling with other like-minded individuals! Join us for a wonderful Mindful Mamas experience!

Space is limited. Please RSVP. 18+ Event
Please no little ones.
Exact location will be sent to you once booked!
Join our meet up groups: Mindful Mamas Bergen County, Mindful Mamas Hudson County, Mindful Mamas NYC